A two story home can be outrageously frustrating for any individual who cannot traverse a stairway!  How awful it would be to have parts of a home 'off limits' to an individual- often times to one who OWNS the home!
Kunkel Construction offers Home Modification Solutions that move bodies from floor to floor.  These options include stair lifts (both straight and curved), chair lifts, and elevators.  We also install commercial stair lifts.
Installing a Stair Lift in Your Home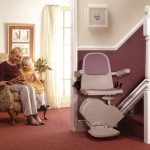 Kunkel Home Modifications Installs and Services All models of Acorn Stair Lifts and Savaria Stair Lifts.  A stair lift can be installed on almost any size stairway and with minimum interference from those who use the stairs in the standard fashion.  Stair Lifts can be installed on straight stairs, curved stairways.  Systems can also be designed to work on stair wells that have central turns or islands in the middle.
Chair Lift Installation can typically be performed in one to two days once the product is delivered from the manufacturer.
Installing a Chair Lift or Elevator at Your Residence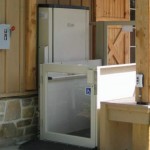 A Chair Lift is essentially a small elevator that can bring a complete chair from one level of a home to another.  We install Savaria Multilift wheelchair platform lifts and Savaria Step Saver stair lift throughout Ohio.  There is often a lift for most adequately sized spaces, and also lifts for outdoor decks and front entrances.
Links to Stair Lift and Elevator Lift Product Pictures